Okay, probably should have been a bit snappier in getting this ride report up. But life does have a way of slowing these things down.
We set out at a bit after 8am on Sunday morning to Oak Mountain down by Birmingham. It takes about an hour and a half to get down to the park.
State Park Site
View of the loop: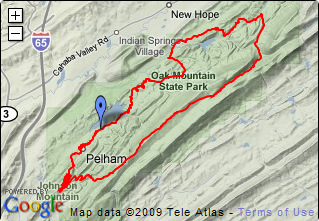 Google Map link
The loop is right around 17mi give or take. Very little elevation gain, yet it feels like you spend more time climbing. It wraps its way up, down, and around the mountain. Some sections are very fast and rolling. There are small berms in some of the corners. This trail would be jedi fast if not for all of the roots crossing and weaving it. Overall it was still a nice change from the rocky Monte Sano trails.
At about 6mi in I knew this was going to be a pedal fest with little chance for recovery. I am surprised my tongue wasn't hanging out...
And of course the bike was already getting a thorough covering of grime.
The chain started to skip and jump. That stayed with me for the rest of the ride, but caused no major issues. I don't like how badly shimano chains behave in the wet and mud. They shift a bit better, but the annoyance isn't really worth it.
Some good company:
Dani
(X-racer from CO), she kicked my but all day. It was like riding with Ed and Jeff all over again. She had enough energy that she would do the climbs and then catch the last guy and ride up again.
Chris and Tim
both strong riders. I think Tim works out or rides like 5 days a week and he kicks but up and down the mountain. Chris, IIRC, has only been riding for a while and is still learning the ropes.
Clay and Cam
good riding buds in the clydesdale class. They are more on my pace, but Clay was hammering better than me this day.
A few more random shots:
Yep, me head down finishing the 2mi climb and Dani smiling as she crested the top for the second time. She only came back down about 1/4mi this time though, so she didn't have it too bad for bonus footies :)
Closest we got to a group shot:
A good ride. I want to get back here when it is dry. Probably a much faster trail that way.
Here is a video of about my favorite part of the trail: